Class of 1971 - $50 for 50 YEARS!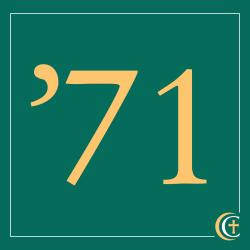 In honor of our 50 year celebration, members of the Class of 1971 are asking each member to donate $50. Our donation will be presented to the school in the name of "The Class of 1971" at the Mother Cabrini Feast Day Mass, Friday, November 12, 2021.
All members of the class are invited to attend mass that day. An RSVP will be sent as we get closer to the mass date.
Please be generous!
Supporters
Name
Date
Amount
Comments
Kathleen Winkler
11/12/2021
$100.00
Gayle Parker
11/10/2021
$50.00
Patricia Duvernay
11/01/2021
$1.20
Joan L. Miller
10/22/2021
$52.25
Isabel Cowley
10/22/2021
$104.19
Peggy Laborde
10/21/2021
$52.25
CeCe Richter
10/18/2021
$52.70
Mary Ann Marks
10/18/2021
$52.25
Michele Helm
10/13/2021
$.76
Cynthia Swiber
10/12/2021
$.76
Glynis Davis
10/09/2021
$.76
Agatha Vidrine
10/06/2021
$52.95
Cecile Cardone
10/01/2021
$.76
Joy North
09/28/2021
$52.25
Dennise Gleason
09/08/2021
$103.30
Kathlyn Dean
08/30/2021
$1.20
Antoinette Talluto
08/26/2021
$.76
Julie Bolen
08/19/2021
$1.20
Florence Wingerter
08/16/2021
$.92
Mary Ellen Vignes
08/15/2021
$52.25
Kathy Cames
08/15/2021
$.76
Celeste Keller
08/14/2021
$.92
Madeline Suer
08/14/2021
$103.74
Barbara Adams
08/13/2021
$52.25
Darlene Duffard
08/13/2021
$52.25
Pam Lafata
08/13/2021
$.76
Peggy Chehardy
08/13/2021
$1.20
Debbie Schmidt
08/13/2021
$.76
Barbara Keenan
08/13/2021
$.76
Camille Danna
08/13/2021
$.76
Joyce Ferrara
08/13/2021
$50.00
Kathlyn Dean
08/11/2021
$103.30
I'm from Cabrini and I'm proud of it!
Kathy Cames
08/07/2021
$73.43
We are great, we are fun, we're the Class of '71!!
Peggy Chehardy
08/05/2021
$104.37
Julie Bonanno
07/13/2021
$100.00
Glynis Davis
07/02/2021
$51.80
Pam Lafata
06/09/2021
$103.30
Camille Danna
06/08/2021
$100.00
Antoinette Talluto
06/08/2021
$103.30
Anonymous Friend
06/06/2021
$51.80
Florence Wingerter
04/27/2021
$104.37
In Honor of Sr. Catherine Garry, MSC
Julie Bolen
04/20/2021
$100.00
Thankful for my years at Cabrini
Debbie Schmidt
03/24/2021
$103.30
Barbara Keenan
03/08/2021
$100.00
Let's get this started!
Total
$2,195.84
Report Abuse
Edit My Page